»Requiem für Malerfürsten«, 2021
»Unter dem Radar fliegen«, 2021
Joseph Beuys was one of my idols when I was a young artist.
His aesthetics influenced me – this is still perceptible in my many artistic work groups. I have directly thematised the reference to him in the work group "Iconic Tank" (201 201), with which I have systematically investigated my own inner image store, grouped it (for example, artists' idols) and artistically staged it (cutting, laminating, extended framing with experimental burn-out lace) in analogy to Aby Warburg's Mnemosyne Atlas.
I have been as intensely fascinated by his political and subject/society utopian ideas and designs, especially the "main stream", his recurring preoccupation with finding new forms for communication, warmth, contact and (provocative) engagement also with repressed issues ("Infiltration-homogenous for Grand Piano or: The greatest composer of the present is the thalidomide child") and in disturbing ways ("How to explain the pictures to the dead rabbit"). My groups of works "Goma subcutaneous" and "Bunker pieces" are inspired by this.
In their morbidity, colourfulness and materiality, my current artistic works, which are still being created with the second lockdown, are aesthetically close to Beuys again: in terms of content, they also have references to themes of the time.
"Requiem for Painter Princes" questions the myth of the artist genius and "Flying under the radar" was/is the motto of the Corona period, diving down, sitting out the crisis of the lockdown and devoting oneself uncensored to artistic themes, such as picking up on no longer contemporary aesthetics of yellowed catalogue pages, ironed flowers, creating poetry albums and drawings of military radars seeking (in vain) to receive ephemeral messages.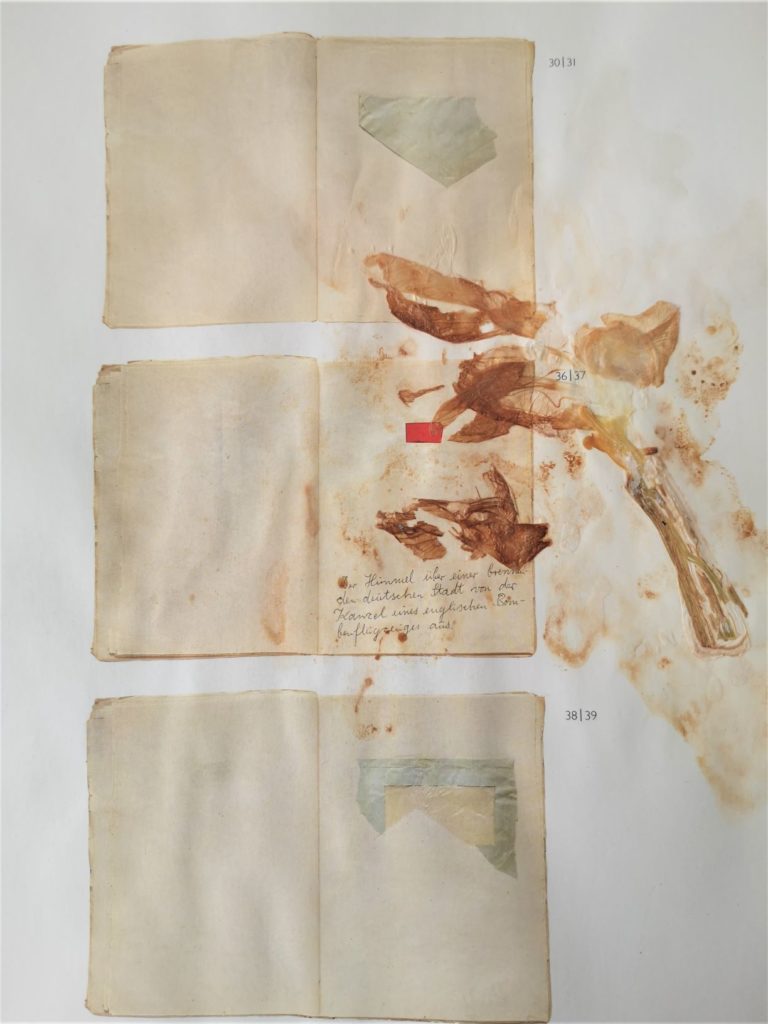 ---
Joseph Beuys war einer meiner Künstler*innen Idole als junge Künstlerin.
Seine Ästhetik hat mich geprägt – dies ist entlang meiner vielen künstlerischen Werkgruppen immer noch wahrnehmbar. Direkt thematisiert habe ich den Bezug zu ihm in der Werkgruppe »Iconic Tank« (201 201), mit der ich analog zu Aby Warburgs Mnemosyne Atlas meinen eigenen inneren Bildspeicher systematisch untersucht, gruppiert (beispielsweise Künstler*innen Vorbilder) und künstlerisch inszeniert habe (Zuschnitt, Laminierung, erweiterte Rahmung mit experimenteller Ausbrennerspitze).
Ebenso intensiv haben mich seine politischen und subjekt/gesellschaftsutopischen Ideen und Entwürfe fasziniert, besonders der »Hauptstrom«, seine wiederkehrende Beschäftigung neue Formen für Kommunikation, Wärme, Kontakt und (provokativer) Auseinandersetzung auch mit verdrängten Themen (»Infiltration-homogen for Grand Piano oder: Der größte Komponist der Gegenwart ist das Contergankind«) und in verstörender Art und Weise zu finden ("wie man dem toten Hasen die Bilder erklärt"). Davon sind meine Werkgruppen »Goma subkutan« und »Bunkerstücke« inspiriert.
Meine aktuellen mit dem zweiten Lockdown immer noch entstehenden künstlerischen Arbeiten haben in ihrer Morbidität, Farbigkeit und Materialität ästhetisch wieder eine Nähe zu Beuys: Auch inhaltlich besitzen sie Bezüge zu Themen der Zeit.
»Requiem für Malerfürsten« hinterfragt den Mythos des Künstlergenies und »Unter dem Radar fliegen« war/ist Motto der Corona Zeit, Abtauchen, die Krise des Lockdowns aussitzen und sich unzensiert künstlerischen Themen widmen, wie dem Aufgreifen nicht mehr zeitgemäßer Ästhetik von vergilbten Katalogblättern, gebügelten Blüten, Poesiealben und Zeichnungen von militärischen Radaren zu erstellen, die (vergeblich) ephemere Botschaften zu empfangen suchen.