The basis was the call for an alternative, a succinct headline of a text that appeared in the Frankfurter Rundschau one day before Christmas 1978, almost 42 years ago.
My relationship with Beuys actually began when I visited Documenta 6 in Kassel in 1977. I suddenly stood in front of his honey pump, or rather looked down at a machine-like structure, and I was totally fascinated. Because understanding/non-understanding this work was exactly what is a basic prerequisite for modern art: to open oneself to another perspective. I had never seen any of his work before, but this work took me by surprise. I suddenly knew how important art can be and what positive magic it can unleash in people. In retrospect I can say that in 1977 it was a kind of awakening experience and my belief in my artistic perception grew steadily.
After my studies, from 1987 onwards, I met the gallery owner Wolfgang Püschel in Paderborn, with whom I have had and continue to have long conversations about art and especially about Beuys ever since. He was surrounded by his writings, lithographs and objects and then, in 1998, commissioned me to work on 25 sheets of his prints, which were published as a series. Seeing/feeling and thinking as a unity of art was triggered in me at that time and this is what this great artist, Joseph Beuys, stands for. His way of thinking and working is more relevant today than ever.
In some of my picture series you can find content from the demand for political/economic and ecological questions of our time.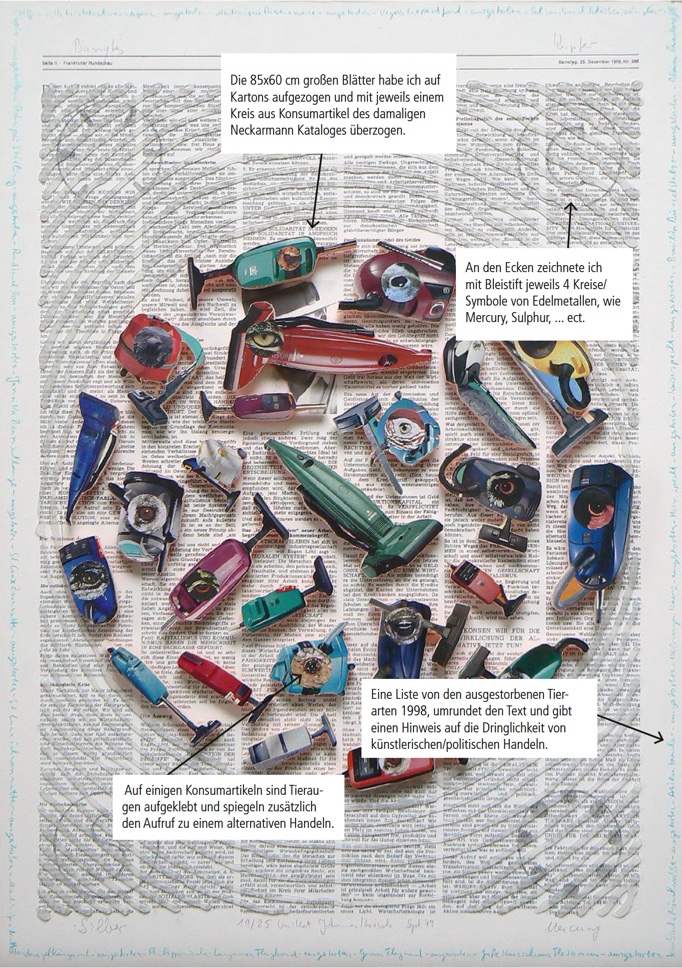 ---
Grundlage war der Aufruf zur Alternative, eine lapidare Überschrift eines Textes, der ein Tag vor Weihnachten 1978 in der Frankfurter Rundschau erschien, vor beinahe 42 Jahren.
Mein Verhältnis zu Beuys fing eigentlich damit an, dass ich 1977 die Documenta 6 in Kassel besuchte. Ich stand pöltzlich vor seiner Honigpumpe, bzw. blickte hinab zu einem maschinenartigen Gebilde und ich war total fansziniert. Denn das Verstehen/Nichtverstehen dieser Arbeit war genau das was eine Grundvorraussetzung für moderne Kunst ist: sich öffnen für eine andere Perspektive. Bis dahin kannte ich keine Arbeit von ihm aber diese Arbeit überrumpelte mich förmlich. Ich wußte auf einmal wie wichtig Kunst sein kann und was für eine positive Magie es im Menschen entfachen kann. Im Nachhinhein kann ich sagen, dass 1977 es eine Art Erweckungserlebnis gewesen war und der Glaube an mein künstlerisches Wahrnehmen dadurch stetig wuchs.
Nach meinem Studium, ab 1987, lernte ich den Galeristen Wolfgang Püschel in Paderborn kennen, mit dem ich seither immer wieder lange Gespräche über die Kunst und vor allem über Beuys führte und führe. Er war umgeben von seinen Schriften, Lithografien und Objekten und gab mir dann 1998 den Auftrag, 25 Blätter seine als Seriegraphie aufgelegten Drucke, zu bearbeiten. Das Sehen/Empfinden und das Denken als Eineit von Kunst wurde damals in mir angestoßen und dafür steht für mich dieser grossartige Künstler, Joseph Beuys. Seine Denk- und Arbeitsweise ist heute aktueller denn je.
In einigen meiner Bildserien finden sich Inhalte aus dem Anspruch an politisch/ökonomischen und ökologischen Fragen unserer Zeit.